The Annual General Meeting 2023 of Allianz SE will be held on May 4, 2023.
General Meeting invitations by e-mail
Via e-mail you will receive invitations to General Meetings faster and help us to save costs and protect the environment. 
You haven't yet registered for invitations to General Meetings via e-mail?
When you receive your access data you'll be able to register here:
In case you like to access or update your registration data (e.g. your e-mail address), please use the button "Login" as well. Of course you can withdraw your consent at any time.
The opening of the Annual General Meeting by the Chairman of the 
Supervisory Board
, Michael Diekmann, and the report of the Chairman of the 
Board of Management,
Oliver Bäte, were transmitted publicly.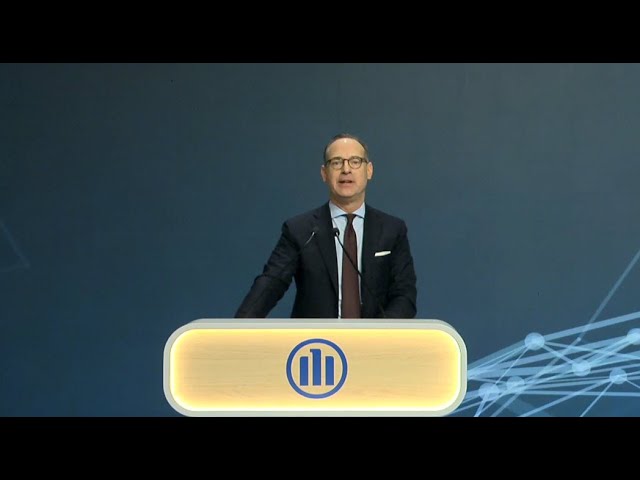 The manuscripts of all speeches, both in German and English, were available in advance (published on April 27, 2022). As usual with pre-release publications, the spoken word shall prevail.
Agenda
The Annual General Meeting of Allianz SE took place on May 4, 2022 as a virtual Annual General Meeting at the company's headquarters in Munich. 
The Annual General Meeting accepted all resolutions with a high level of approval.  Besides the approval of the payment of a dividend of 10.80 euros per share, the approval of the actions of the members of the Management Board and the Supervisory Board, the agenda included the following topics: 
Appointment of the statutory auditor  
Approval of the Remuneration Report  
New elections to the Supervisory Board  
Renewal of authorizations with regard to authorized and conditional capital 

Renewal of authorizations to acquire treasury shares   




Approval to amend existing company agreements  



43.28 % of the share capital was represented at the Annual General Meeting. 

Agendas and other relevant documents of former General Meetings are available in our 
archive. 
Presence at the AGMs of Allianz SE
You can reach us 
Monday to Friday, 8 am to 6 pm
Phone +49 89 3800 7555
For all other enquiries please contact
Phone +49 89 3800 0
Postal address
Allianz SE
Investor Relations
Königinstrasse 28
80802 Munich
Germany