Africa Economy Builders Awards
Allianz's Delphine Traoré Maïdou named as 'CEO of the Year' in Africa
Downloads
Delphine Maidou (left) with Russel Lohore, founder and president of the Africa Economy Builders Awards
The 8th edition of the Africa Economy Builders Awards recognized Delphine Traoré Maïdou as 'CEO of the Year' for the significant contribution she made to Africa's economy as CEO of Allianz Global Corporate & Specialty (AGCS) Africa from 2012 to 2017 based in Johannesburg, South Africa.
The award ceremony took place in Abidjan, Ivory Coast, on April 28 to celebrate and promote individuals and organizations for playing key roles in developing African economies.
Delphine Maidou discusses the African insurance market on CNN Marketplace Africa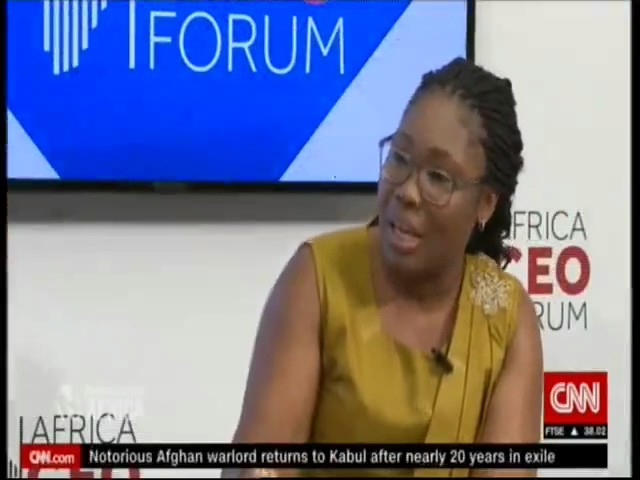 Under Delphine's leadership, AGCS Africa expanded significantly its number of employees and range of insurance solutions for corporate clients across the region.
In February this year, Delphine joined the board of management of Allianz Africa as regional Chief Operating Officer (COO) where she is responsible for the development of the Allianz Group's business in the continent. She remains a non-executive member of the board of management of AGCS Africa.
Originally from Burkina Faso, Delphine has been recognized widely for her leadership as well as her insurance and risk management expertise. Notable awards include: Outstanding Woman Leadership Award (Africa Leadership Awards 2015), Choiseul 100 Africa Top Economic Leaders for Tomorrow (2014 and 2015) and ranked 11th out of 50 Most Influential Women in Francophone Africa (2017) by Jeune Afrique.
Delphine Maidou (right) with Faustin Mounguengui Nzigou, ambassador of Gabon in Ivory Coast
Delphine continues to contribute significantly in developing and transforming the African insurance industry as president of the Insurance Institute of South Africa and member of the African Risk Capacity's Outbreak & Epidemic (O&E) Advisory Panel.
About Allianz Global Corporate & Specialty
Allianz Global Corporate & Specialty (AGCS) is the Allianz Group's dedicated carrier for corporate and specialty insurance business. AGCS provides insurance and risk consultancy across the whole spectrum of specialty, alternative risk transfer and corporate business: Marine, Aviation (incl. Space), Energy, Engineering, Entertainment, Financial Lines (incl. D&O), Liability, Mid-Corporate and Property insurance (incl. International Insurance Programs). Worldwide, AGCS operates in 30 countries with own units and in over 210 countries and territories through the Allianz Group network and partners. In 2016, it employed around 5,000 people and provided insurance solutions to more than three quarters of the Fortune Global 500 companies, writing a total of 7.6 billion euros gross premium worldwide annually. AGCS SE is rated AA by Standard & Poor's and A+ by A.M. Best.
About Allianz
The Allianz Group serves 86 million retail and corporate customers in more than 70 countries, making it one of the world's largest insurers and asset managers. In 2016, over 140,000 employees worldwide achieved total revenues of 122.4 billion euros and an operating profit of 10.8 billion euros. Allianz Group managed an investment portfolio of 653 billion euros. Additionally our asset managers AllianzGI and PIMCO managed over 1.3 trillion euros of third-party assets. Allianz customers benefit from a broad range of personal and corporate insurance services, ranging from property and health insurance to assistance services to credit insurance and global business insurance. As an investor, Allianz is active in a variety of sectors including debt, equity, infrastructure, real estate and renewable energy. The Group's long-term value strategies maximize risk-adjusted returns.
Further Information
Forward Looking Statement disclaimer
As with all content published on this site, these statements are subject to our Forward Looking Statement disclaimer:
Press contact
More at allianz.com